What is there to do in in a sleepy village like Cublington? Plenty is the answer!
Allotments
If you want an allotment, contact Maggie Brandon for more details.
Aunt Sally
A traditional pub game. The Unicorn is the place… ask behind the bar for more information
Bootcamp
If you want to get fit – this might be for you! 6.15am at Orchard Ground every Friday morning for an early morning workout! Kathryn Hanson is the contact 01296 641612

Cabaret Night
November  @ Biggs Pavilion,

Church Groups
new information coming soon
Orchard Ground, Stewkley Road, CUBLINGTON, LU7 0LR
Cricket has been played in Cublington for 150 years. Today, our thriving, progressive, village club provides opportunities for all abilities and ages to enjoy the greatest summer game there is! Most home matches are played at superb facilities at Orchard Ground, where thanks to strong local support and successful grant applications, we play around 60 home fixtures a season.
The Youth section, started in 1998, is one of the strongest in the area with over 100 young players receiving coaching from more than 10 Nationally qualified coaches. Junior teams are entered in County and local Aylesbury competitions at Under 9,11, 12, 13, 14, and 15 age groups. In 2016 18 young players have been selected to represent the County. Junior coaching and practices take place indoors (Feb-Apr) on Sunday afternoons and outdoors (Apr-Jul) at Orchard Ground. All young players aged 8 or above, girls and boys, are welcome.
At senior level, Cublington runs 2 senior League teams on Saturdays as well as a Sunday side and an occasional Strollers Sunday side.
The Saturday 1st XI has been promoted through leagues and now sits proudly in Division 3 of the Cherwell Cricket League. The Saturday 2nd XI will play in Division 7 in 2016. The Sunday friendly side forms the bedrock of our social (but competitive) cricket, playing against many local sides.
The Club is run by four Action Groups (Cricket, Ground, Social and Community) and we warmly welcome anyone from Cublington and the surrounding villages & towns who would like to join the club as a playing, non-playing, junior or senior member.
If you are interested in getting involved or would like further information please contact: Club Chairman Michael Reilly on 01296 681328 or Tom Gadsby on 01296 680452
The Crier
If you have any articles/recipes/news/letters/photos you would like included in the village magazine, please email the editorial team gary@cublingtoncrier.co.uk or drop into the Crier postbox outside the Bell Cottage in the High Street. (next to the telephone box)
Cycling
All the roads all around Cublington and surrounding villages are a cyclists paradise! Road races often finish up the testing Whitchurch Hill, Cublington is now part of the National Cycle Network.
Dancing
Dance classes are held every Monday and Thursday evening in the Village Hall,  learn to salsa or jive – come along and try it out. £5 pp a session. Call Ann on 07762 405395 for more information
Darts & Dominoes
The Unicorn is the place… ask behind the bar for more information
Cublington Brisk Walkers
Cublington Brisk Walkers in the Summer meet every Tuesday evening for circular walks around Cublington.  Lengthier walks take place on the last Sunday in every month, meeting in the Unicorn car park. As the name suggests, we are brisk walkers rather than strollers. The walks range from 2 – 5 miles depending on the energy levels of the participants each week!
We started the club in May 2003 and everyone is welcome, young or old, dogs too. Look out for dates and times in the Crier Diary. Currently looking for a new organiser.

Fishing
Cublington sports a magnificent coarse fishery. 01296 682201for more details. www.lakesidefishery.com
Friend's of St Nicholas
The Friend's of St. Nicholas comprises of a small committee of villagers. Its purpose is to maintain the fabric of St. Nicholas church, which is recognised as the heart of the village. Contact Sandie or Mike Joy for more information.
Golf Society
The Unicorn Golf Society (TUGS) … anyone interested, please put their name down on the list in the Unicorn or contact the pub. Approximately 4 meetings a year.
Jive Lessons
Want to learn to dance the Salsa or learn to Jive?
Call Ann on 07762 405395 for more information
Jogging
Keen joggers meet every Saturday morning for an ever expanding circuit of the local villages. Kathryn Hanson is the contact 01296 641612

Ladies Club
The Ladies club was formed 66 years ago and meets every second Thursday afternoon at 2.45 in the Church Hall Aston Abotts, from the last Thursday in September until the middle of July the following year. Guest speakers, Spring luncheon, a Summer outing, a Garden Party, a Carol Service, and a theatre visit usually after Christmas have filled our calendar this year.
We are a small club of about 25 members and our meetings are very friendly and companionable. Please come and join us. Contact Avril Bradley Davies.
Monopoly – based on the village
The Unicorn is the place to find it… ask behind the bar
Nordic Walking
Join in and get fit!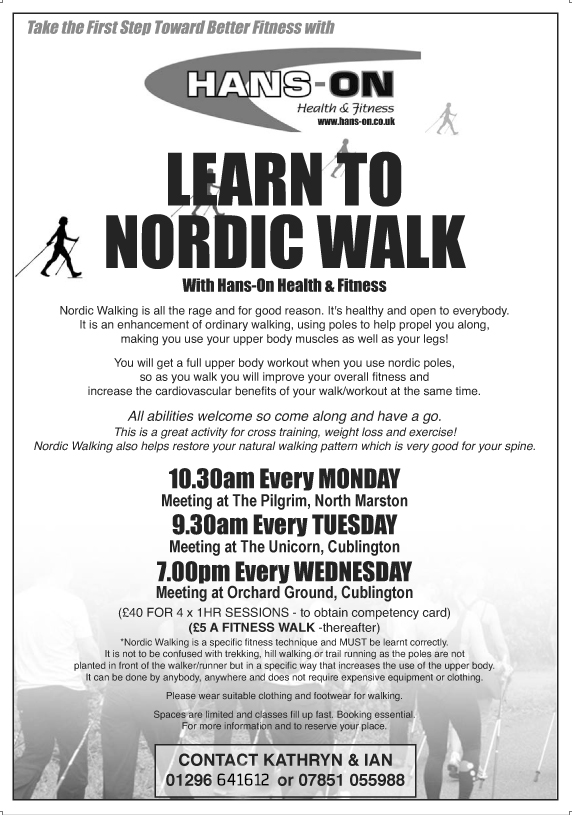 Orchard Ground Committee
A group of villagers work on our behalf to raise funds for the maintenance and upkeep of the magnificent Biggs Pavilion. If you would like to join the committee, or support our fundraising events, please contact Duncan Mack for more information. The Biggs pavilion is also available for hire for private events – For hiring conditions and more information please contact Bob Paine  on 01296 680483 or bobpaine2002@hotmail.com
Petanque
The Unicorn is the place… ask behind the bar for more information
Play Area
The children's play area has been refurbished and is open for use.
Salsa & Jive
Want to learn to dance the Salsa or learn to Jive?
Call Ann on 07762 405395 for more information
St Nicholas Church
There cannot be many villages in England that have actually moved but Cublington has! It is situated in the Vale of Aylesbury and the earliest mention of Cublington is in the Domesday book and belonged to one Gozelin from Brittany a follower of William the Conqueror .
In 1341 during King Edward II's reign, the tenants left the village, for what reason is not clear, maybe the Black death or the badly drained land. By 1400 It had been rebuilt on its present site with a new Church in its centre. Many of the materials from the old Church -stone and timber- were re used in the new one and some of the fittings like the old parish chest – the oldest in Buckinghamshire – is still in use today. The old village site is still visible after all these years  and  classified as an Ancient Monument.
The Friends of St Nicholas (established in 2000) are a dedicated group that have raised over £36000 for the fabric of the Church since starting their work and they and the congregation continue to contribute to the upkeep of St Nicholas.
Roy Shons   Church Warden
Quiz Nights
Meet every Monday evening at the Unicorn from 8.30pm. An accumulating jackpot keeps the punters interested.
Tennis – Aylesbury & District League Most Improved Club 2004
A thriving LTA affiliated tennis club exists in the village with two all-weather floodlit hard courts. Club nights are held on Fridays from about 7.30pm and Saturday afternoons during the summer. Organised coaching sessions, friendly atmosphere, summer barbecues and tournaments. Seven teams competing in local leagues Mixed, Ladies, Mens and Vets. All abilities welcome.
Contact: Caroline Lane for membership details, coach Gerry Wyatt for junior & senior coaching and Gary Brazier for general information.
Unicorn
You could go for a pint or a meal of course. We are very lucky to have such a vibrant pub at the centre of the village. A constantly changing menu provides everything from lighter bites and baguettes to hearty home cooked meals sourced from local suppliers. Click on the link above to visit their website.
Variety Club
Cublington Variety Club put together each year a pantomime during half-term in February. One may think professional actors and actresses are imported for this event, but no, all talent comes from within the village. Including script writing, directing, make up, costume design, scenery painting, sound, lighting etc. Buy your tickets early – they always sell out very quickly.
Or, alternatively, put your name forward for the 2020 performance.