The Biggs Pavilion – LU7 0LR
Having been completed in February 1998, The Biggs Pavilion has established itself as a much used village resource. And due to its imaginative design, it has much to offer for a wide variety of uses.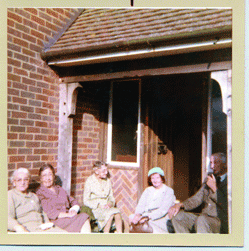 The Biggs Pavilion is named after the Biggs family, (pictured here), who were local farmers and when the last member of the family passed away, Orchard Ground, the field and the site of The Biggs Pavilion, was left to the village for the development of recreational pursuits for the village community. The Parish Council set up the Orchard Ground Committee, who are responsible for the development and its upkeep and often run fundraising events thoughout the year.
The Building
With generous help from the National Lottery Sports Fund and Aylesbury Vale DC it was possible to build a superb multi-use pavilion. Many villagers gave their support by purchasing a brick for the walls in Cublington's "Buy 'A' Brick" campaign, details of which can be found in the foyer.
The Aylesbury District Council Chairman, Councillor Freda Roberts MBE, opened The Biggs Pavilion in April 1998.
The Pavilion comprises:
• FUNCTION HALL :- Good sized area suitable for birthdays, discos and wedding receptions, any occasion possible. Also space available to erect a large marquee.
• KITCHEN :- Catering should be arranged by the hirer but facilities are available. Fully equipped catering kitchen installed. All appliances are electric. Kitchen also provides for up to 100 place settings.
• CHANGING FACILITIES :- Male and female changing areas, each with a shower area.
The Rates
Village Residents and fully paid up members of
Cublington clubs and organisations.
£8 per hour
Outside Cublington Clubs and organisations regularly using the facilities. £10 per hour
Discounts for block bookings
Dances, discos & parties
(There should be at least one adult present for teenage parties)
Cublington residents £70   Non Villagers £100
Weddings etc. (Whole day – 9.00am – midnight)
Cublington residents £250 Outside of village £300
A refundable deposit of £25 is required at time of booking.
Deposit will be returned if no costs are incurred with regard to
cleanliness  or damage to property, fixtures or fittings.
See the Pavilion Booking Calendar www.ogpavilion.keepandshare.com
See the Biggs Pavilion plan: BIGGS pavilion

For hiring conditions and more information please contact Bob Paine  on
01296 680483 or bobpaine2002@hotmail.com