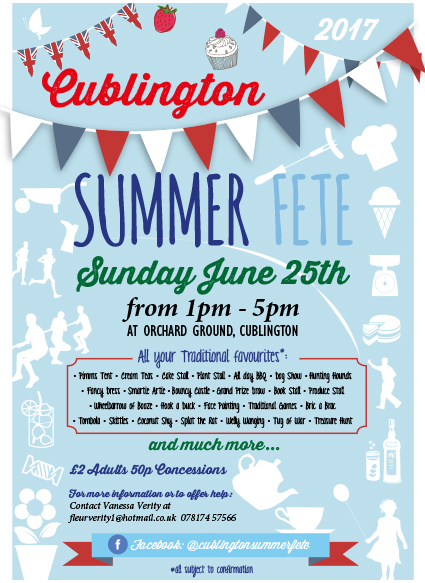 The annual Cublington village fete for the second year running in 2016 was held at Orchard Ground. The fete attracts visitors from all over the county.
Attractions vary, last year including a birds of Prey display and laser shooting, Smarty Arty for the children and loads of stalls including Tombola and White Elephant. Refreshments range from the Pimms stall to a nice cream tea. Visitors can wander round or just sit in the sun (hopefully) and soak up the atmosphere.
Everyone connected with the Fete has a good time, and we do make a profit – approximately £3000 this year – which goes back to the village, helping St Nicholas Church The Village Hall and Orchard Ground facilities.
A small army of volunteers come together to help plan and organise this event, running stalls or generally lifting and moving on the day of the Fete.
If you would like to join in, please contact Vanessa Verity. You should enjoy it, and hopefully you will not end up in 'The Mysterious Case of the Vanishing Fete-helper'.